Unleash a World of Gaming Adventures With One Click
A Treasure Trove of Games
For most of us, gaming is more than just a hobby. It's a passion, an adventure, and an escape from the real world into one filled with unlimited possibilities. The Steam platform is a treasure trove of games, housing tens of thousands of options for every kind of gamer. From action-packed adventures to contemplative indie games, the choices are endless.
The Paradox of Choice
However, this abundance can sometimes be a double-edged sword. Too much choice can lead to indecision, often referred to as the "paradox of choice". Gamers end up spending hours browsing through the expansive libraries, reading reviews, and watching trailers, only to be unsure of what to play next. The quest to find the perfect game can often seem like an overwhelming task.
Introducing a One-Click Solution
We understand this challenge. That's why we've developed an exciting new feature that aims to bring a solution to this problem - a "Get Random Game" button. It is designed to cut through the clutter and the overwhelming number of choices to deliver an instant recommendation with just one click. Think of it as your personal gaming concierge, selecting the best of what Steam has to offer, personalized for you.
More Than Just a Game Name
Our tool does not just throw out a game name at you. It provides you with a comprehensive snapshot of the game's critical information. Each recommendation comes with details about the game's developer, publisher, a rating snapshot including positive and negative reviews, and even average playtime over the past two weeks. Whether you're a casual gamer looking for a quick fun game or a hardcore gamer seeking a deep, engaging experience, this information can guide you to make an informed choice.
We also provide up-to-date pricing information. You will see the game's current price, the initial price, and any ongoing discount that might be in effect. It's not just a game discovery tool, but also a smart shopper's assistant, helping you grab the best deals on Steam.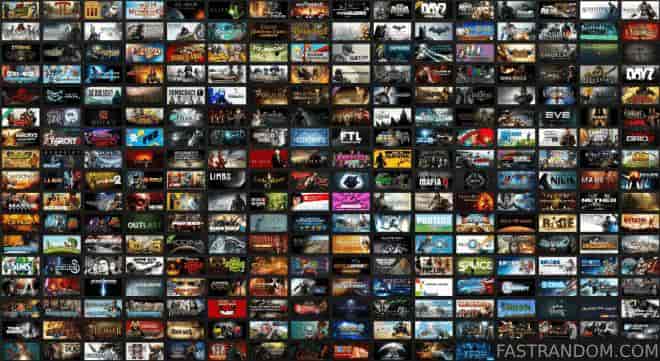 Experience the Visuals
But what is a game without its stunning visuals? To give you a taste of the game's aesthetics, the header image of each game is pulled directly from Steam. These images, often carefully designed by the creators, offer a sneak peek into the game's world. It's the visual appetizer before the main gaming course.
Discover. Play. Repeat.
With our new feature, discovering your next gaming adventure is as simple as clicking a button. No more endless scrolling, no more indecision. Just click, discover, and immerse yourself in a new game. And once you're ready for a fresh adventure, just hit the button again! It's an infinite loop of gaming discovery, waiting to be unleashed.
Extend Your Adventure to GOG
If you're enjoying the thrill of discovering random Steam games, why stop there? Explore a universe of DRM-free games on GOG, a platform known for its classic titles and indie gems. Our Random GOG Game feature offers a new galaxy of gaming experiences, all with a single click. Whether you crave nostalgia with vintage games or seek the latest indie sensations, our random GOG game selector provides endless surprises.
So why wait? Embrace the fun of discovery. Take the guesswork out of your game selection process and explore the vast universe of Steam games with ease. All it takes is one click to embark on your next gaming obsession. Ready to discover your next game?